Imaginative productions for children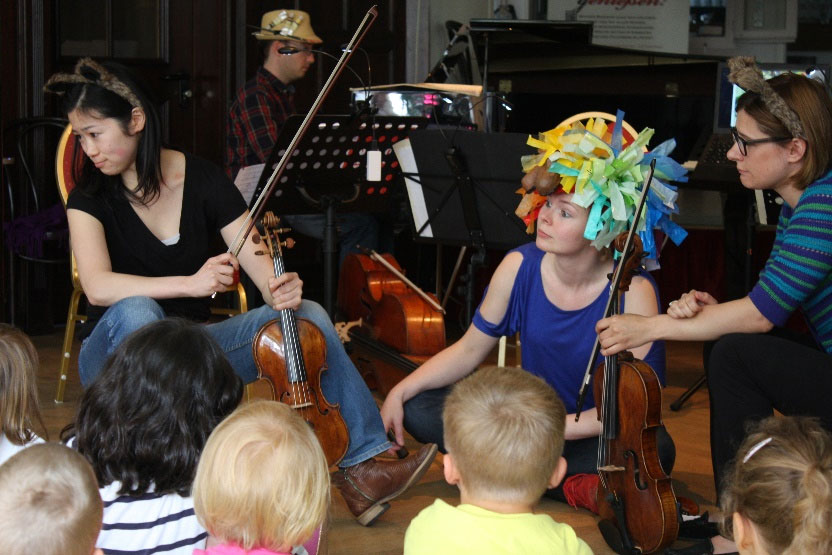 Photo: Martin Keil – Fiona Colour, June 2015
Photo: Dominik Lack – What does your living room sound like? May 2017
Märchen Reloaded. Music theatre production for children
In the work Ma mère l'Oye ("Mother Goose"), Maurice Ravel musically sketches scenes from various well-known fairy tales such as Beauty and the Beast, Little Thumb or Sleeping Beauty in a wonderful way. Inspired by his music and idea, the Flex Ensemble develops a participatory music theatre piece that takes its young audience on a journey through a contemporary fairytale world and discovers how exciting (chamber) music can be. The traditional stories are interpreted and told in a witty, mixed and up-to-date way; conveyed through music, drama and images. The musicians are also the actors and involve the children in the play. The stage set will be designed with video images by video artist Yoann Trellu. Director: Friederike Karig.
For children aged 5-11 (school classes and families).
Duration: 45 minutes.
They swing back and forth, spin in circles, clap and jump – the 180 second and third graders in the audience were not bored at the children's concert in the monastery hall on Friday morning. The musicians from the Flex Ensemble performed with the children without words. Only through pantomime and, of course, music did they bring the boys and girls closer to classical music. In an abstract manner, the musicians depicted fairy tales and underscored them with music by Maurice Ravel.
New Press, 15.02.2020
Musical Painting with Miró / Art and Music
The four musicians of the Flex Ensemble play parts of a piano quartet by the American composer Stephen Hartke. A work composed in 1988 with a surrealistic variety of colours and styles ranging from Gregorian to jazz with very exciting effects and playing techniques. The individual movements are named after paintings by Joan Miró. The students listen and draw what they hear and feel at the same time. The imagination is limitless! Later, Miró's pictures and titles are shown and so the play is replayed through the students' drawings. How does it look now?
Target group: From 1st grade
Duration: 45 minutes
Experience Concert Fiona Colour
The exciting story of "Fiona Farbe" with wondrous pictures by Margriet Leemans is projected image by image onto a screen and told with stirring acting and music. The four musicians of the Flex Ensemble interact with the children and let them experience up close what exciting sounds can be produced with their instruments piano, violin, cello and viola. This even allows the children to dance and sing along if they feel like it. The combination of art and music stimulates the imagination and promotes emotional development. The children experience empathy through the story and learn to perceive feelings and solve problems. A firework of imagination!
Target group: Children from 3 to 9 years
Duration: 35 minutes