New & Exceptional Quartet Literature
Flex Ensemble: Think Big, Photo: Nadezhda Yotzova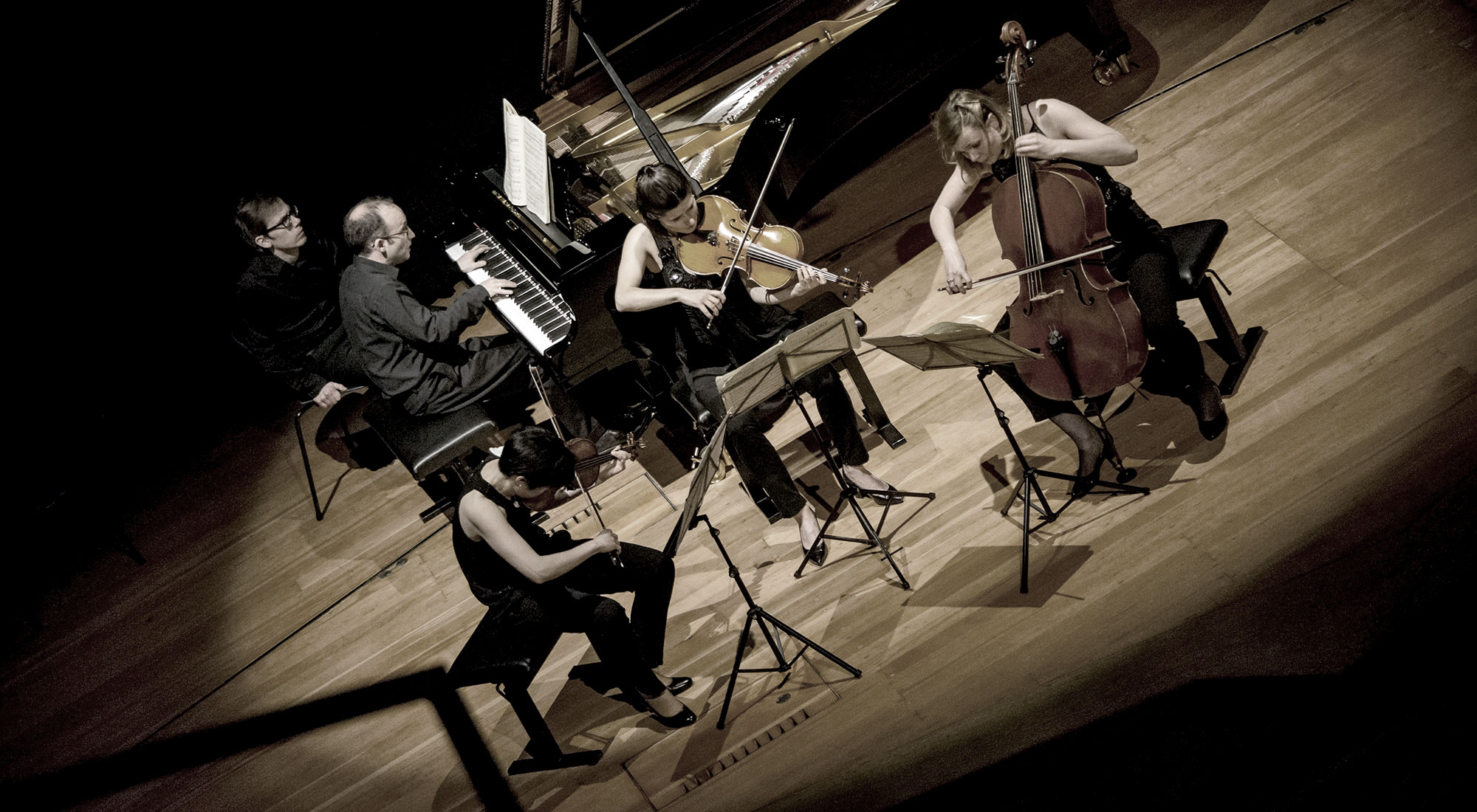 Photo: Dominick Lack – Living Room Music, Mai 2017
Maurice Ravel
Ma mère l`Oye (Mother Goose Suite) transcribed for piano quartet by Shintaro Sakabe
Sakabe for piano quartet
Project Chanson
New compositions and arrangements based on French chansons, by Gordon Williamson, Gerard Pesson, Johannes Schöllhorn, Konstantinos Raptis and Sebastiaan Koolhoven.
Camille Saint-Saëns
Piano Quartet in B flat major op. 41
[or: Gabriel Fauré: Piano Quartet No. 1 in C minor op. 15]
Georges Brassens, Jacques Brel, Édith Piaf… These names come up when we talk about modern French chanson. But from what point of view do contemporary composers and arrangers look at this music? We asked composers and arrangers of different careers and generations to arrange, rewrite or interpret their version of a French chanson of their choice (e.g. Josquin Deprez, Jaques Brel or Stromae) without vocals for a piano quartet.
Konstantinos Raptis, Gordon Williamson, Sebastiaan Koolhoven, Johannes Schöllhorn and Gérard Pesson accepted our challenge: their new chanson creations were premiered in our concert series in Hanover in November 2017 (Kleiner Sendesaal of the NDR Landesfunkhaus). For our endeavour to expand the piano quartet repertoire and creatively explore the possibilities, we also challenged the emerging arranger and conductor Shintaro Sakabe to rewrite Ravel's "Ma mère l'Oye" for piano quartet. The French programme is completed by a rarely performed, underrated work by Saint-Saëns.
For the premiere in Hanover:
"The arrangement of Ravel's Fairy Tale Suite also attracted attention: Shintaro Sakabe made it for the Flex Ensemble and formed a fully-fledged concert piece from the original, a piano duo of medium difficulty, which places the highest demands on the performers. And the Flex Ensemble audibly paid a great deal of attention to this quite unusual arrangement: every intonation and every phrasing was carefully weighed and shaped, and the result of what was certainly painstaking work was simply inspiring. The fact that the enchanting final movement of the suite was played once more at the end of the concert was very welcome, for one can hardly get enough of the richly coloured arrangement. The musical guests were celebrated by the audience with enthusiastic applause."
Westfalen-Blatt, Peter Ernst, 29 Jan. 2018
"The soulful and professional playing of the ensemble was inspiring. A creative and successful start to the series!"
NDR Kultur, Agnes Bührig, 22. Nov. 2017
Ludwig van Beethoven
Symphony No. 3 ("Eroica") op. 55 in
Bearbeitung von Ferdinand
Ries for piano quartet
Johannes Brahms
Piano Quartet in G minor, op. 25
Beethoven's Third Symphony, arranged for piano quartet by his contemporary Ferdinand Ries, is the source of inspiration for the programme title "Think Big". Playing symphonic music in this instrumentation is an exciting challenge for the ensemble, holds the chance for the audience to hear a famous and often played masterpiece with new impulses and allows everyone together to get close to the essence of this music. We complement this programme with the orchestral-sounding Piano Quartet by Johannes Brahms op. 25 in G minor, which already tempted A. Schönberg to orchestrate it in 1937.
Slavic Sentiment – Polish folk music reloaded
Paweł Mykietyn (*1971)
Commissioned composition for the Flex Ensemble (2019)
Mateusz Smoczynski (*1984)
Polish Folk Music arranged for Piano Quartet (2019)
Frédéric Chopin (1810 – 1849)
Selection Mazurkas for piano solo
Krzysztof Penderecki (*1933)
Quartet for clarinet and string trio (1993)
with Maximilian Krome – Clarinet
"Another village – another song" – that's roughly how a Polish saying goes. In the past, that was really the case. Throughout the country, music was part of everyday life and was part of the cycle of life: birth and love, marriage and death, holidays like Easter and Christmas, the harvest season and nature – everything was sung about in song.
Our aim now is to put traditional Polish folk music on our present (musical) horizon. We asked Mateusz Smoczynski, currently a celebrated violinist on the Polish jazz scene, to explore this theme more deeply and to look with us for ways to capture the atmospheres and colours of these songs with the instrumentation of the piano quartet. We also want to show the diversity of the material, which is different in each region, with our modern instruments. Krzysztof Penderecki, as one of the leading representatives of New Music in Poland, must of course not be missing. His extremely melancholic quartet for clarinet and strings fits very well into this programme. In order to shed even more light on Poland's contemporary music scene, we have commissioned composer Paweł Mykietyn, also known for his film music, to write a new piano quartet for us.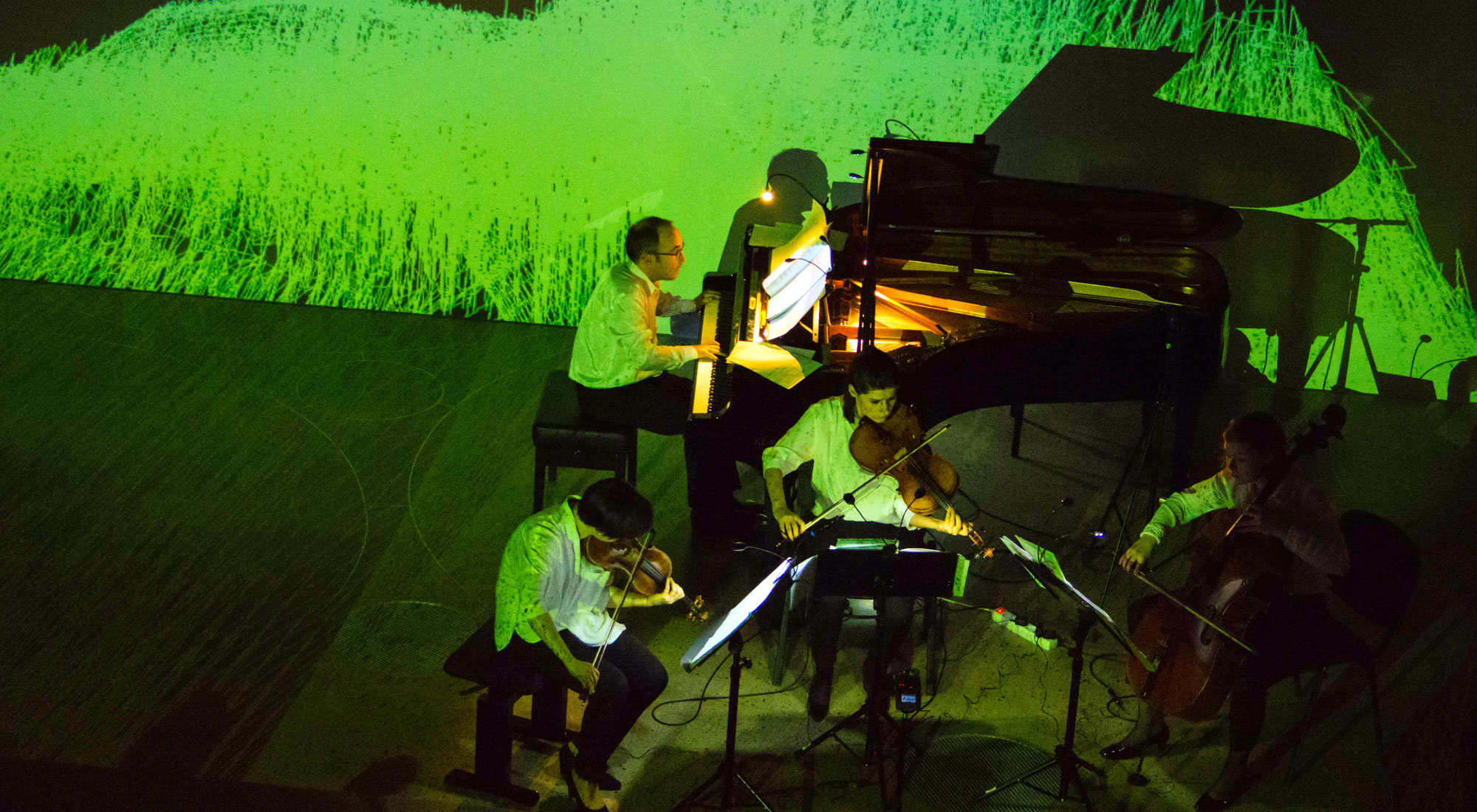 Circular Music (Sprengel Musuem), Photo: Dominick Lack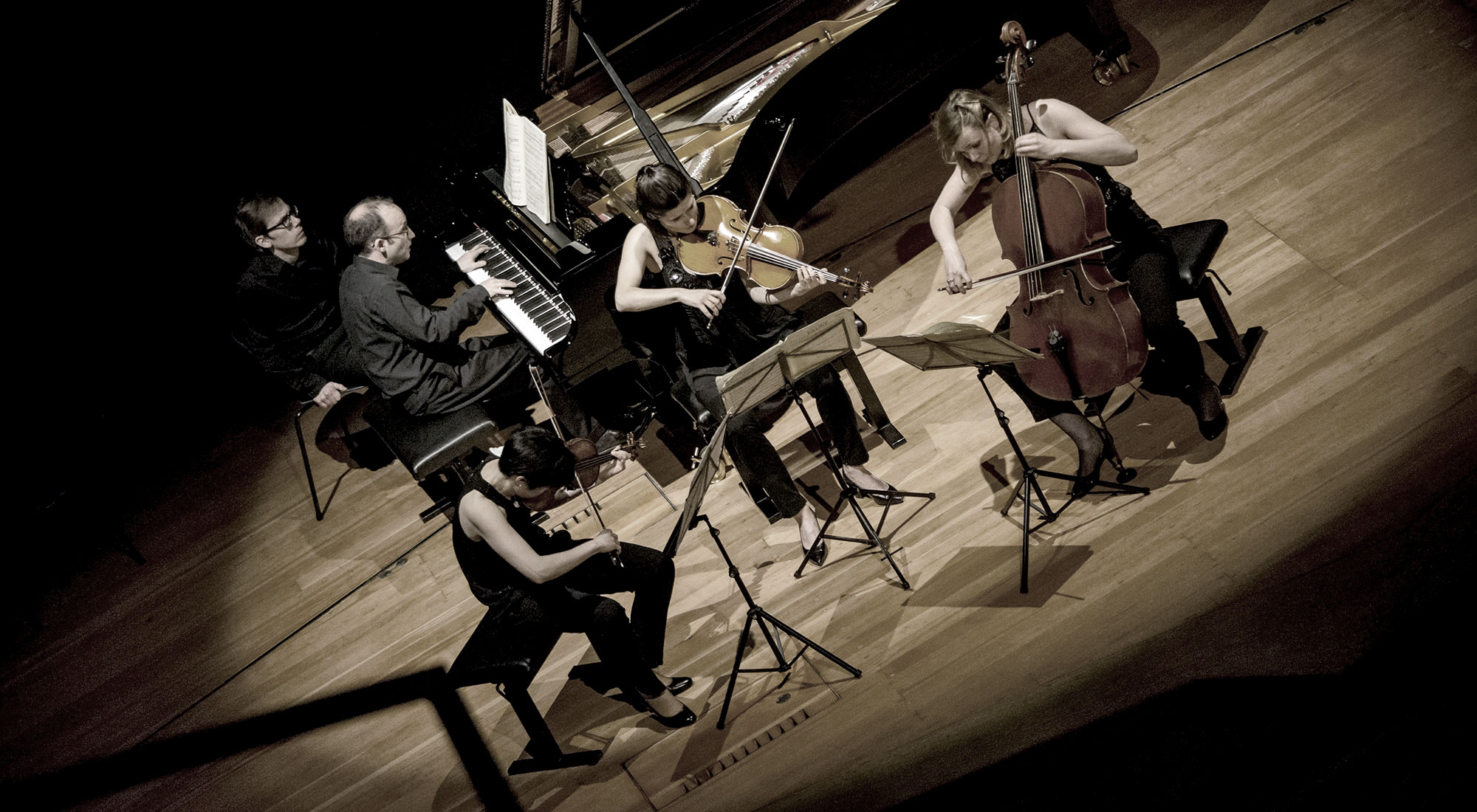 Flex Ensemble mit Lena Visser, Photo: Dominick Lack
Phantasmagorical Movements. Surrealism in Art, Music & Dance
Maurice Ravel
Sonata for Violin and Cello
Johannes Ciconia
Le Ray au soleyl
Stephen Hartke
The King of the Sun (1988)
with Lena Visser, dance
There is something dreamlike and surreal about all of us – at least that is what the composer Stephen Hartke and the painter Joan Miró are convinced of and call this 'something' phantasmagoric. Inspired by these artists, we investigate: What happens when a piano quartet is considered part of a choreography or when a dancer becomes part of a music-making ensemble? Everything revolves around Stephen Hartke's piece "The King of the Sun", which is based on paintings by Miró, and an impressionistic duet by Maurice Ravel, which reveals Ravel's love of dance although it is not actually dance music. Projections of Miró's originals frame the concert evening. The joint experiment blurs the boundaries between music and dance, hearing and seeing!
Possibly in conjunction with a workshop for children/young people: What impressions listening to this music and art leaves on young listeners and how these can be made visible even without seeing – this was explored by the ensemble in advance in a project with pupils from the State Education Centre for the Blind in Hanover; the results were exhibited at the premiere.
"The first thing I noticed when I met the four of them was how much movement they have in their bodies when they make music", says Lena Visser. "It's just a by-product, so to speak, it's not designed for performance at all. And yet, as a dancer, I find it incredibly inspiring – and I take a lot away with me." (Interview and rehearsal visit, NDR Kultur, Agnes Bührig, 30 Jan. 2018)
Circular Music / New Music Meets Video
Snezana Nesic
Solnce Odno Streichtrio (2004/2007)
Jürg Frey
Extended Circular Music no. 1, 2 und 4 (2011-2014)
Gérard Pesson
Mes Béatitudes for piano quartet (1995)
Bruissant divisé für Violine und Cello (1998)
Igor Stravinsky
Elegy for solo viola (1944)
with Yoann Trellu, Video-Art
In "Circular Music", the audience can expect dynamic new chamber music performed in a special format: works by Gérard Pesson, Igor Stravinsky, Jürg Frey, and Snezana Nesic are combined with video projections by Yoann Trellu from Berlin. Together, the ensemble and Trellu create an evening in which music, space and video projections interact with each other. The focus is on Jürg Frey's composition Circular Music, which invites you to rest:
Silence also has its place in sounds. To achieve silence, one must let go of everything that stands in its way.
Jürg Frey
Tempo di Tango / Video trifft Tango
Horacio Salgán
Del 1 al 5 (Dia de Pago)
Astor Piazzolla
Ballet Tango, Escualo, Tanti Anni Prima, Tango del Diablo – Romance del Diablo – Vayamos al Diablo
Pedro y Pedro für Bandoneon Solo
Hugo Diaz
Termal
Rosita Melo
Desde el Alma
Francisco Canaro
Milonga del Buenos Aires
Julián Plaza
Nocturna Milonga
mit Kostas Raptis, Bandoneon/Arrangements * Tosh Leykum, Video Artist
Tango! A sizzling affair between dance and music. Greek bandoneonist Kostas Raptis has rearranged tango pieces especially for the collaboration with the Flex Ensemble – not only works by Astor Piazzolla, but also those by other authentic tango composers such as Diaz, Melo and Canaro. The music ranges from virtuoso and crazy miniatures to wedding waltzes and intimate songs. With subtle video projections to enhance the musical dimension, this programme comes alive.
The tango concert with the Flex Ensemble in the monastery was a great success. The enthusiastic audience bid farewell to the artists with shouts of approval and foot stomping.
HAZ, Irmgard Gums, 12. Feb. 2018
Easter Transformations – an alternative Passion with Arvo Pärt
Francisco Guerrero (1528-1599)
Maria Magdalene et altera Maria
Pēteris Vasks (*1946)
Grāmata čellam II. Pianissimo (Dolcissimo) for Cello Solo (1978)
Nora Gomringer (*1980)
Video Lesung (2019)
Arvo Pärt (*1935)
Stabat Mater for soprano, alto, tenor, violin, viola and cello (1985)
with
Ania Vegry – Sopran
Marlene Gaßner – Alto
Uwe Gottswinter – Tenor
Nora Gomringer – Video Lecture
Performance venue: A church if possible.
Johann Sebastian Bach's famous Passion music originally had the purely religious purpose of conveying the Easter message. Even today they are played a lot and gladly heard at Easter, but the direct connection is no longer so strong. Many younger composers – such as Arvo Pärt – who worked with these religious texts put them into a modern context with their own musical language.
We want to enter into and offer an engagement with spiritual retreat, but outside a traditionally religious framework. For this, we play Pärt's Stabat Mater in conjunction with the reading of a text that seeks an engagement with the themes of the Passion and Resurrection in the present. This 'modern sermon' is produced and read by the young up-and-coming German writer Norah Bossong. The rarely performed Stabat Mater for three singers and string trio is in many ways a realisation of his aim to create a "musical line that is a carrier of the soul, an absolute monody, a naked voice from which everything originates". The effect of this music can be felt as one's own religious experience.