Calder Moves

A New, Intimate Immersive Experience
Featuring Music, Dance and Art
Program
Witold Lutosławski – String Quartet
John Cage – Suite for toy piano & 5"
Caroline Shaw – Limestone & Felt for viola and cello
Brigitta Muntendorf – (World Premiere) New Work for the Flex Ensemble
Reserve seats now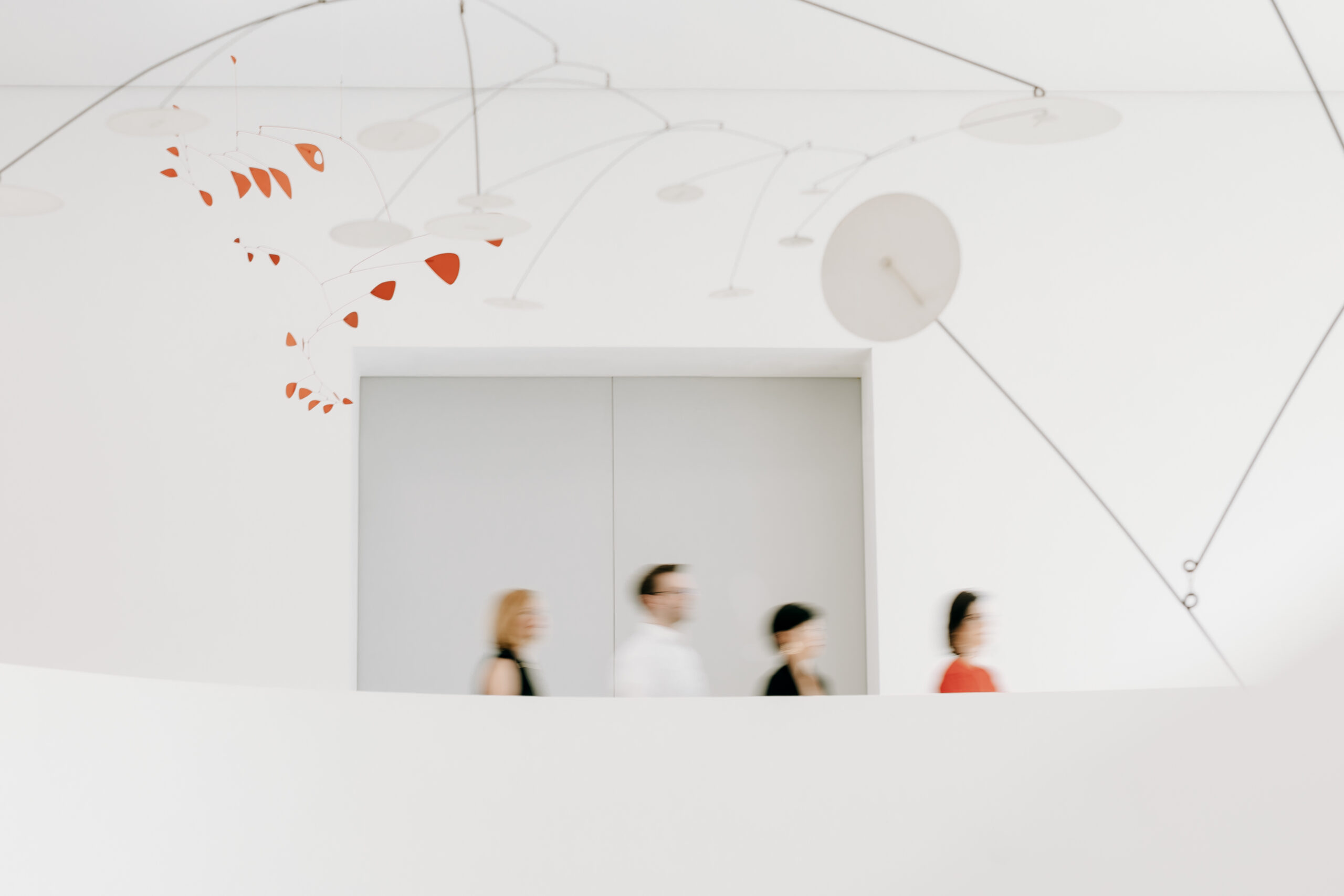 "Calder Moves", a co-production by Tom Pearson (Global Performance Studio/Third Rail Projects, New York) and the Flex Ensemble, is an invitation to the audience to participate in an interactive, experimental performance and move through the Calder Hall of the Sprengel Museum in an immersive experience.
The focus is on the art of Alexander Calder (1898-1976). Taking up his aesthetics of wonder, whimsy and chance with the music of Witold Lutosławski, John Cage, Caroline Shaw and Brigitta Muntendorf (WP), the musicians and performers create sonic and visual "mobiles" together with the audience. These celebrate Calder's work and invite us not only to pause and take note, but to participate, play and be immersed–visually, sonically, and somatically—in the purposeful wonder of it all.
Artists:
Flex Ensemble (Piano Quartet + Performance), Lisa Werhahn (Violin + Performance), Marissa Nielsen-Pincus, Simon Kluth (Performance) and Tom Pearson (Director)
December 9th 2023, 4 pm
December 10th 2023, 3 pm + 6 pm
Pay what you can. (proposed amount: €20)
Sprengel Museum Hannover
Calder Saal
Kurt-Schwitters-Platz
30169 Hannover

"Off to America"  Picknickkonzert

imPULS Open-Air of the Flex Ensemble
George Gershwin – Porgy and Bess Suite, arranged for violin and piano by Jascha Heifetz
Antonín Dvořák – Piano Quartet in E flat major op. 87
Mateusz Smoczyński – Komeda recomposed (2021)
Jazz standards arranged for piano quartet by Jakub Kraszewski and Johannes Nies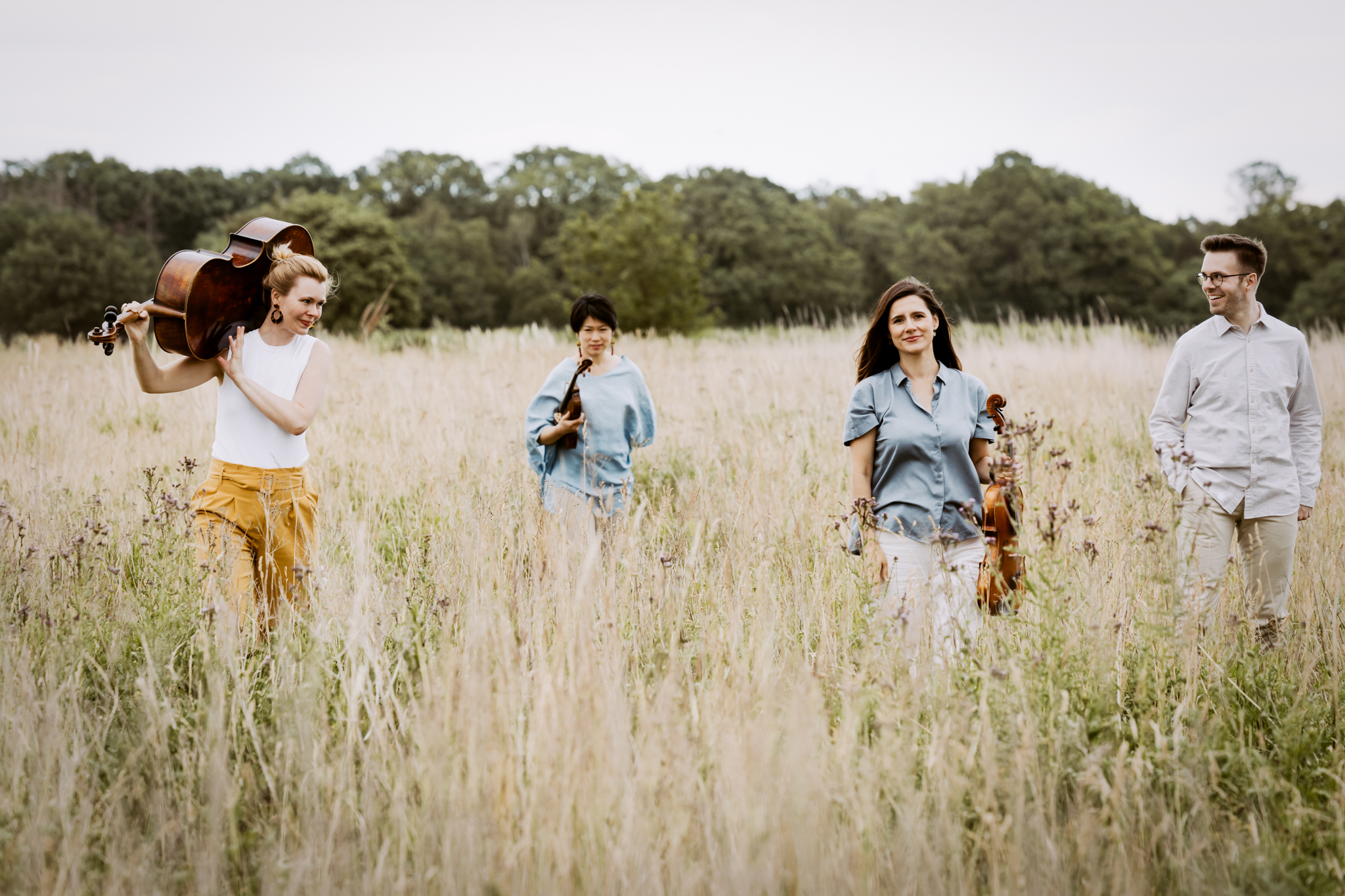 With "Porgy and Bess" George Gershwin succeeded in creating a work of world renown, one of the great folk operas in history and "the" American opera par excellence. The Russian-American violinist Jascha Heifetz was the first to arrange a suite to the hits of this opera: with seductive string singing, but also a sure feeling for the surging rhythms, the swing and the precisely calculated dirty blue notes, he pays homage to Gershwin's brilliant throw.
In addition to triumphs and new impressions, Antonín Dvořák's two-and-a-half-year stay in the U.S. was also marked by great longing for his homeland in Bohemia. Interestingly, Dvořák was to help the American music scene find its own "non-European" style. The work on the Piano Quartet op. 87 seems to have come easily to him, which at the same time characterizes the quartet itself, whose peculiarities are described by its carefree tone.
The jazz influence as well as the American connection to his great inspiration John Adams are unmistakable in "Komeda recomposed" by Mateusz Smoczynski, internationally celebrated Polish jazz violinist and composer. The suite is a tribute to the famous Polish jazz and film music composer Krzysztof Komeda.
The program is completed by jazz standards arranged especially for the Flex Ensemble by Jakub Kraszewski and Johannes Nies.
reFLEX – mobile concert stage
In 2022 the ensemble toured for the first time with the "reFLEX – mobile concert stage" – a mobile concert stage, which makes it possible to perform chamber music concerts in high quality outdoors. It was developed in cooperation with the Leibniz University of Hannover and the Acoustics Office Göttingen and with the support of Neustart Kultur as a manageable outdoor acoustic facility. With this mobile open-air stage, different open-air programs were performed in Hanover, Hamburg and Berlin last summer.
Rasselmania Hildesheim
Bischofskamp 18
31137 Hildesheim
Own picnic basket and/or solid & liquid food on site
Both concerts free admission – donations requested.